collection 2020
c/o Contemporary Cluster
Via dei Barbieri 7
Roma
Opening exhibition 24 September h.19.00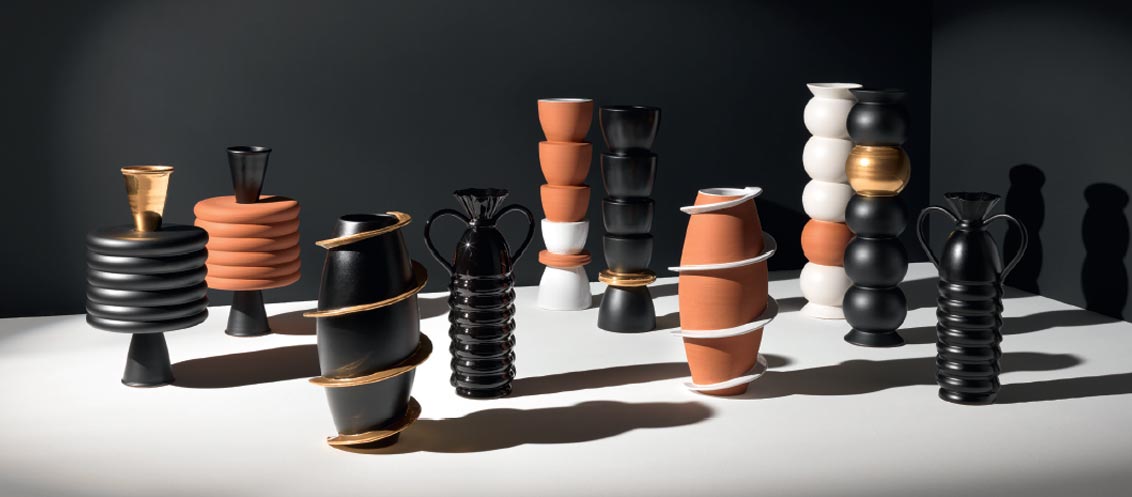 The 2020 collection designed by Ugo La Pietra for Ceramiche Rometti takes up and deepens the path started by Ugo La Pietra in 2017 with the colossal Totems, with the collection of 24 pieces – vases, candlesticks and containers – made on a lathe without the use of molds. with the Tattooed hands series, which adopts the cheeky language of the street.
They are complete expressions of the artist's acute and visionary sensitivity, able to get involved by working closely with the Artistic Director Jean Christophe Clair and the Rometti workers.
The dialogue of white with black, the increased dimensions of the objects, the refined techniques of frescoing and engraving on the engobe enhance the totemic sacredness of the objects and the tribal language of the graffitied hands.
Free from the formal constraints of mass production and the logic of the market, the 2020 collection deploys objects with fluid and spiral lines, which combine the elegance of black and gold glazes with a glossy and matte finish with the natural red of clay.
An original and open aesthetic dimension, and the names of some works – Continuus, Non Stop, In Progress – are a significant confirmation of this.
The Umbrian land, shaped by expert hands and the multifaceted mind of the master, becomes the tangible and enjoyable result of a pragmatic and visionary planning, which projects the ancient techniques of ceramics into a post-modern dimension.
.