Archive
The Ugo La Pietra Archive records the maestro's works and papers, structured by discipline: Art, Architecture, Design, Applied Arts, Music, Teaching and Publishing.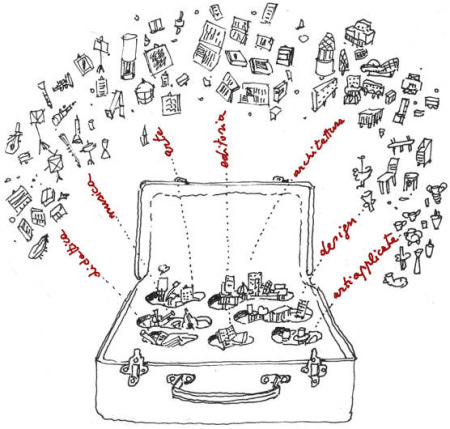 The Archive is overseen by Lucio La pietra. Simona Cesana and Andrea Pellicani assist in the archiving and systematic cataloguing of La Pietra's oeuvre, with the cooperation of museums, collectors, cultural institutions and private galleries.
The Archive is open for students, critics and researchers to consult, and works may be borrowed on request.
The Archive also assists owners of works by La Pietra who wish to have them authenticated and recorded in the official archive.
For information: archivio@ugolapietra.com
The Archive at work
The Ugo La Pietra Archive examines and records plans, designs, works on canvas, drawings on paper, collages, sketches, photos, documents and applied-art and design objects.
Works are archived free of charge, but payment is requested to cover the cost of issuing certificates of authenticity with photos, stamped and signed by the Archive.
The collector is responsible for any costs for analyses, transport and insurance of the works.
To have a work by Ugo La Pietra documented in the Archive, please contact us at archivio@ugolapietra.com. You will then need to download the catalogue form from this website, complete it in full and email it to us along with the following material:
a photo of the front of the work
a photo of the rear of the work (if it contains details that might help with identification)
a photo of the detail of the signature and/or copy number
photos of any significant particulars for identification purposes (labels, archive numbers, dates, inscriptions or dedications)
a caption (title, year, technique, dimensions and copy number)
NB: these materials must be of adequate professional quality – if the photographs are not good enough, then we shall be unable to perform the authentication.
Images must be sent as follows:
as digital JPG files
with a minimum resolution of 300 DPI and dimensions of at least 30 cm across
to the above email address, with the Archive's prior agreement.
(Any other means must be agreed with the Archive.)
Each image, details excepted, must show the entire work without any cropping, blocking out or touching up.
The Archive may ask to examine the work before releasing the certificate of authenticity. The photo-based authentication will be issued as a single copy; the Archive cannot provide duplicate authentications.