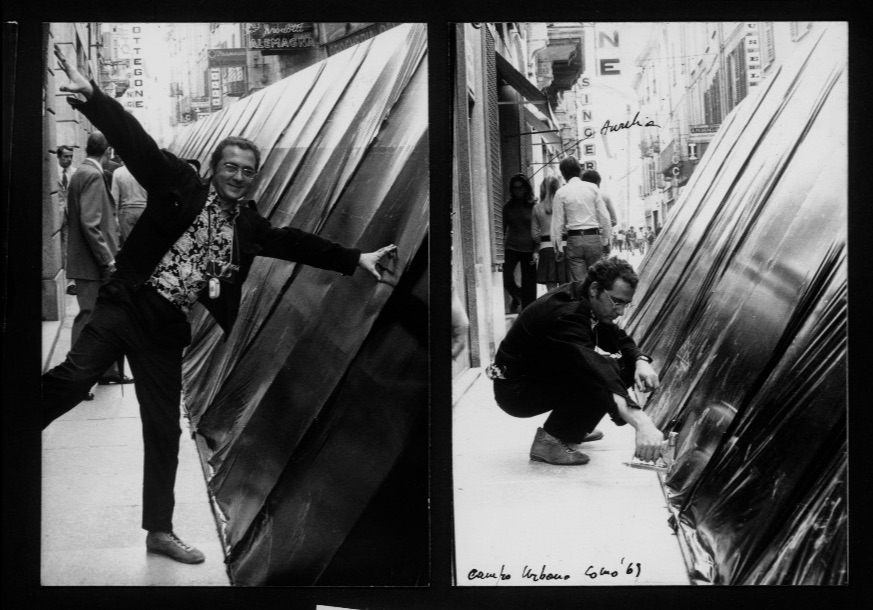 Campo Umano
Public art 50 years after "Campo Urbano"
A project by Luca Cerizza | Zasha Colah
Conference and exhibition
opening 21 September 2019
Villa Olmo, Como
A conference and an exhibition celebrate the fiftieth anniversary of Campo Urbano, the artistic event curated by Luciano Caramel who occupied Como's public spaces on September 21, 1969 with ephemeral and often unsettling interventions for citizenship and public opinion.
While analyzing the successes and failures of the exhibition within the historical-artistic and social context of the time, the conference will discuss, through the contribution of artists, critics, curators, the possibilities and today's forms of public art, in a political scenario, social and technological in which the very idea of space and the public good, the concept of community and that community have radically changed.
On Saturday – after introducing the Italian social and political context of those years (Robert Lumley) – the forms of public art that took place in Italy between the late 60s and early 70s will be discussed (Alessandra Acocella , Luca Cerizza, Alessandra Pioselli, Francesco Tedeschi and Tommaso Trini). In this context, the case of Campo Urbano will be explored, through the testimony of some of its protagonists (Giuliano Collina, Mario Di Salvo, Ugo La Pietra, Gianni Pettena and Grazia Varisco).
The exhibition Document the ephemeral. Images and materials from Campo Urbano, through documents from the archives of the artists, videos and video-interviews, original editorial material (designed by Bruno Munari) will reconstruct the events of Campo Urbano also through the photographs of Ugo Mulas and those, mostly unpublished , by Gianni Berengo Gardin and Gabriele Basilico.
—-
Conference: 21-22 September 2019 – Villa Olmo (via Simone Cantoni 1, Como)
Exhibition: Document the ephemeral. Images and materials from Campo Urbano
Opening: 21 September 2019, 6.30 pm – from 22 September to 26 October 2019 – borgovico33 (via Borgo Vico 33, Como) – opening hours: 10 am-6pm (Saturday and Sunday) by appointment (Monday-Friday)
INFORMATION
RATTI FOUNDATION
intern@fondazioneratti.org
tel 031 338 4976