ABC Arte presents the exhibition:
UGO LA PIETRA
THE ARTIST AND THE CITY
curated by Flaminio Gualdoni
Opening: thursday 16 march 2023
16 march – 15 may 2023
ABC-ARTE, Genoa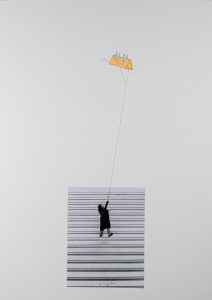 At 18:30 hours on Thursday 16 March ABC-ARTE will inaugurate in Genoa, a large-scale exhibition, "The Artist and the City", dedicated to the work of Ugo La Pietra.
The title sums up the intense relation that has connected and still connects the architect, designer and skilled painter La Pietra with the theme of the city.
Driven by interest and critical passion, La Pietra has for several decades developed his research on the relation between the individual and the surroundings. He has investigated this relation above all in the urban context, arguing for the demolition of the barrier between public and private space. He has done so using various forms of expression and an artistic practice motivated by the slogan 'To inhabit is to be at home everywhere'.
The range of the exhibition extends from Recupero e reinvenzione, 1969, photographic collages with pen or pencil interventions inspired by Narrative Art and representing an organic dissection of the different ways in which city dwellers live in and appropriate the public space within the urban periphery of Milan.
After these analyses, the exhibition continues with other observations that gradually shift from the periphery to the centre of the city, with works like those in the series Il Monumentalismo, 1972.
In the course of time, the artist's research takes the form of a series of painting able to narrate the 'alternative routes' (les chemins du dérive) within an urban structure that grows in an unregulated way (also described in his recent book La città senza morale, 2022) and which in the last few years have been conceived as 'inventive' variations within the concept of territoriality. Amid urban spaces and gardens, La Pietra creates a critically lucid and poetically intense route, as in La città scorre ai miei piedi (2011/2021),  Itinerari preferenziali (2005/2022), Il giardino luogo di spettacolarità e concettualità (2018/2022).
The exhibition, accompanied by a new bilingual monograph with a rich documentary apparatus, published by ABC-ARTE edizioni, marks the start of the permanent collaboration between ABC-ARTE and Ugo La Pietra.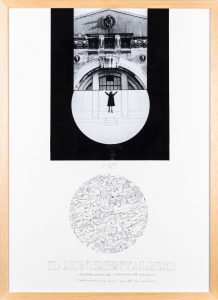 ABC-ARTE
Via XX Settembre 11/A, 16121, Genova
T. 010.86.83.884
press@abc-arte.com
www.abc-arte.com
Ugo La Pietra. The artist and the city
16 march – 15 may 2023
Tue-Sat: 09:30-13:30 and 14:30-18:30 hrs
Sun-Mon: by appointment